fiber / DIMENSIONS
November 5 – December 19, 2004
Reception: November 5 – 7-9pm
CONTEXT
November 5 – December 19, 2004
Reception: November 5 – 7-9pm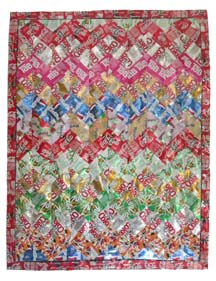 Stuart Wagner
First Prize: Aluminum Quilt Division
aluminum pop-top cans & duct tape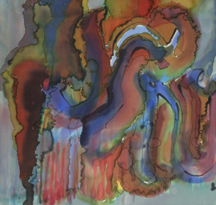 Muriel Knapp
Splash
CONTEXT
Contemporary textile Artists of Northern California, a Bay Area guild of fiber artists, will be on exhibit in the East Wing Humanities Gallery. These innovative works rely partly on traditional surface design techniques like screen printing, dyeing, shibori, machine embroidery, hand painting and quilting. They also incorporate re-weaving fabric, collage, use of found objects, beading, bleaching, raw-edged fabric, and photo transferring, frequently mixing these media in surprising ways.
Silk painter Joy-Lily frames her naturalistic paintings of flora and fauna with shibori-dyed silk which has bleached images of falling leaves. Collage of woven silk strips overlays her images to create shimmering highlights. These works are finished with quilt stitching.
Shibori dyer DJ Hamouris creates mandala-like wall hangings by pleating silk, wrapping it on poles and hand applying colors. "When I unwrap it," she says "the result is sometimes even better than what I had planned. Shibori is a magical fiber art technique, full of delightful surprises."
JoAnn Bautista
Antoinette Belonogoff
Deborah Burns
Christine Culver
Mary Gaynor
DJ Hamouris
Marjorie Johnson
Joy-Lily
Muriel Knapp
Connie Levy
Elizabeth Lopez
Susan Paull
Carlene Raper
fiber/DIMENSIONS
fiber/DIMENSIONS is a group of Bay Area artists with a three-dimensional focus concentrating on new and emerging concepts of sculpture, installation, and fiber art. Members meet monthly to critique, exchange techniques, learn of opportunities relating to areas of group interest, support art ambitions of fellow members, and plan group exhibitions. We support the needs of members who are beginning artists and those who have already emerged.
We are alumni from workshops or classes of Carole Beadle and support her philosophy of positive encouragement and co-operative decision making.

JoAnn Bautista
Carole Beadle
Gerry Beers
Allester Dillon
Katy Drury Anderson
Emily Dvorin
RoseMarie Ginsburg
Beth Hartmann
Mary Huntsman
Cynthia Jensen
Shoko Kageyama Klyce
Giselle Kappus
Marcia Kent
Joan Klein
Michelle Logan
Thorley Murray
Judy Samborski
Margaret Starrett
Ruth Tabancay
Joyce Tayer
Sheila Tuffanelli
Stuart Wagner
Sunshine Weismehl