Fall Workshop Series for Age 16 and Up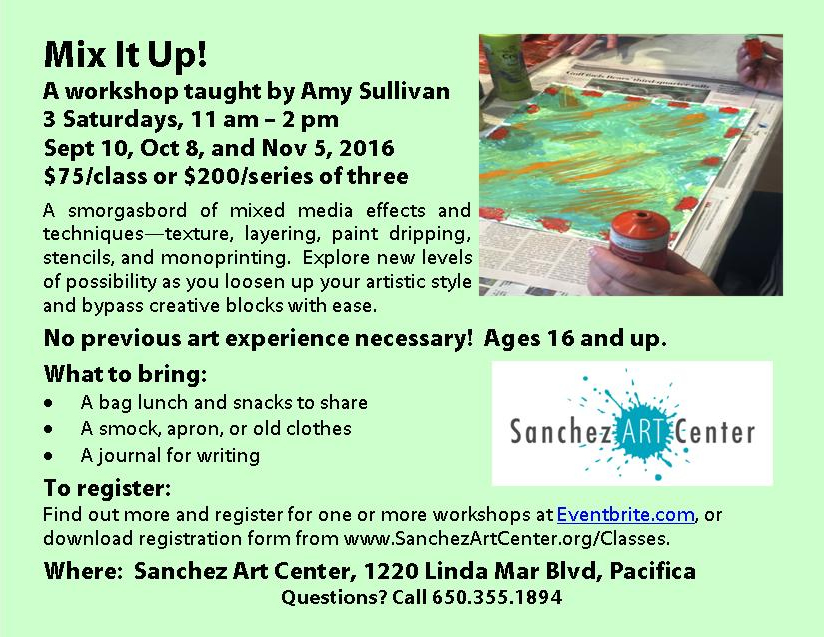 Click here to find out more and register online at Eventbrite.com.
Click here to download and print a registration form.
Life Drawing for Adults
SUMMER SCHEDULE: Sessions will be held Saturdays from 10 am to 1 pm, from June 25 through Aug. 13.
FALL SCHEDULE: Beginning Aug. 18, sessions will meet on Thursdays, 10 am to 1 pm.
$15 (short and long poses). Open to adults 18 and older. Non-instructional. For more information, contact Jude Pittman: pittmanjude@gmail.com or www.judepittmanart.com.
Art for Preschoolers
Currently on summer break, the Pacifica Mothers Club Arts and Crafts Co-Op meets during the school year at 10:30 am on Friday mornings at the Sanchez Art Center. There is a variety of arts & crafts available for children ages 0 – 5, including a play-dough table, a coloring table, painting, and weekly projects. PMC members attend for $5 a week per family. Non-PMC members are also welcome for $6 a session. No meetings on school holidays. Check back here at the end of summer for the fall schedule.