About the Left Coast Annual Juried Exhibition
Springtine, a period of renewal. Bounding joyfully from the winter and bursting with color. A time for creativity to launch with a major exhibit of contemporary art at Sanchez Art Center.
The Left Coast Annual juried art exhibition has become a showcase for contemporary artists. Originally known (from 1996 – 2011) as "Arts on Fire" to celebrate the creative spirit that took form and manifested in the creation of Sanchez Art Center, the show has expanded from a San Francisco Bay Focus to include the creative works of artists on the cutting edge of the United States from California, Oregon, Washington, Alaska and Hawaii.
Forty to fifty pieces of art are selected each year by a distinguished juror representing the major museums and institutions of northern California.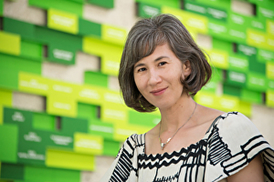 2020 Left Coast Annual Juror
Carin Adams is the curator of Art at the Oakland Museum of California. She led the 2015 exhibition Yo-Yos & Half Squares: Contemporary California Quilts, which features the work of Rosie Lee Tompkins alongside other San Francisco Bay Area quilters from the Eli Leon Collection. More recent projects include a site-specific commission by the Los Angeles-based art collective FriendsWithYou and the special exhibition J.B. Blunk: Nature, Art & Everyday Life. Her current projects include Hella Feminist: An Exhibition, set to open April 2021.
2020 Left Coast Annual Virtual Galleries
Click HERE or enter SanchezArtCenterVirtualGalleries.org in your browser bar to enter the galleries.
Navigating the Galleries: The three little bars at the top or center of the page provide access to the virtual galleries website menu or click these links: About the Left Coast Annual; Artists in the Exhibition; 2020 Left Coast Annual Exhibition Art; About Sanchez Art Center and Contact Sanchez Art Center.
Enjoy a leisurely "stroll" through the gallery of 50 pieces by 49 artists selected by Ms. Adams by scrolling through the "2020 Left Coast Annual Exhibition Art". Click on an image to learn more about the artist and their inspiration. The "Artists in the Exhibition" page allows you to dive deeper into an artists realm by clicking on their name to be taken to their website.
Supporting artists and the creative community has never been more important. Artworks are available for purchase. To assist in your decision, you can view the works in a room setting (from the page with the artist work and artist statement, click "room" under the artwork image. Click HERE to see this feature in action).