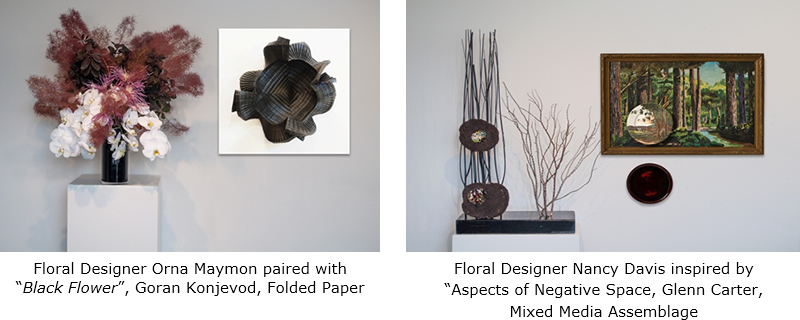 Art x Nature x Art
Like many arts organizations, Sanchez Art Center was unable to hold a planned fundraiser in May in support of our mission of Creating Community through Art. The event Art x Nature x Art was to bring the creations of local floral designers to the galleries with works inspired by pieces in the 2020 Left Coast Annual. We're delighted to share a glimpse into what we look forward to presenting in 2021. (Learn more about Sanchez Art Center and donate to support community art!)
For the 2020 Art x Nature x Art preview, five floral designers selected materials from the richness of nature, including tillandsias and textured bark to smooth semi-previous stones, an array of flowers from outrageous orchids to humble hydrangea, other natural elements and an assortment of vessels. They sculpted them into fragrant, multi-dimensional arrangements paired with eleven randomly selected 2020 Left Coast Annual artworks.
The talented team of floral designers included: Nancy Davis, Susan Landry, Orna Maymom, Michele Coxon, and C. Starship. Special thanks go to Nancy Davis at Shelldance Orchid Gardens in Pacifica, CA. Her enthusiasm along with her floral colleagues made this a virtual visual delight.