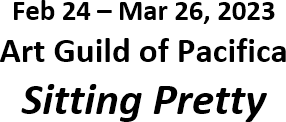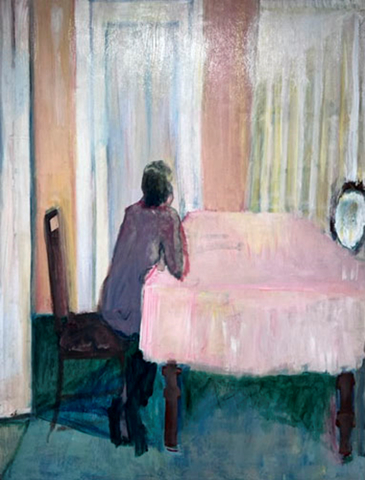 The West Gallery is presenting a group show by the Art Guild of Pacifica members, Sitting Pretty. Pieces include assemblage, ceramic sculpture, paintings in acrylic, oil and watercolor, mixed media and more, reflecting each artist's interpretation of the phrase —the act of sitting, on cloud nine, positioned prettily, figurative poses and more.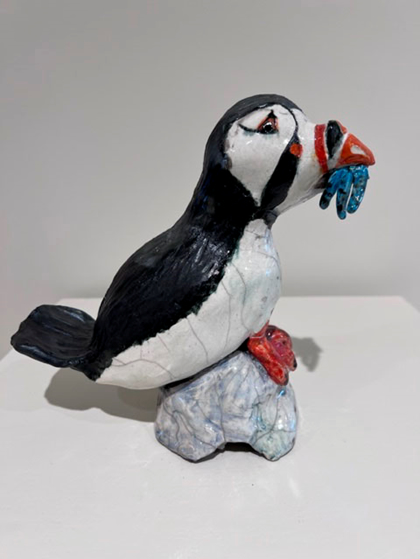 Artworks include Leah De Nola's acrylic painting "Metamorphsis" with a woman seated at a table, facing away in a contemplative scene in soft colors. Nancy Hall's assemblage "Sitting Pretty" collects objects precisely positioned on an ornate metal stand with fabric draping. And ceramicist Dody Lapworth is showing a puffin sitting on a rock, "Successful Dive" with a tasty seafood bite.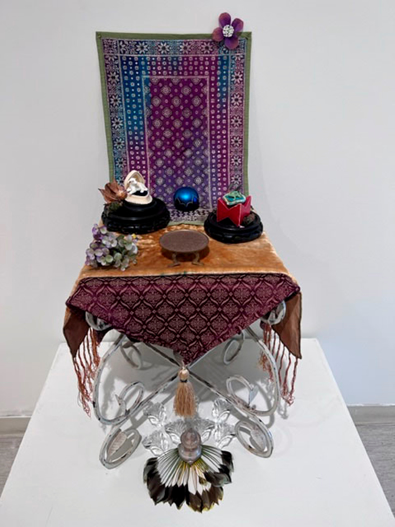 The Art Guild holds four themed exhibitions a year, plus an annual members' show, and a holiday show and sale each December. Small works and cards are also available from the AGP Shop (cash/check only) when their members are exhibiting.
Sanchez Art Center is located at 1220 Linda Mar Blvd in Pacifica, about a mile east of Highway 1. Following opening night, the galleries are open Friday, Saturday, and Sunday, 1–5 pm, and by appointment, through Mar 26.
The opening, talks, and gallery visits are free as part of the center's focus on "Creating Community through Art".
Upcoming Exhibitions: Click here to see the 2023 schedule