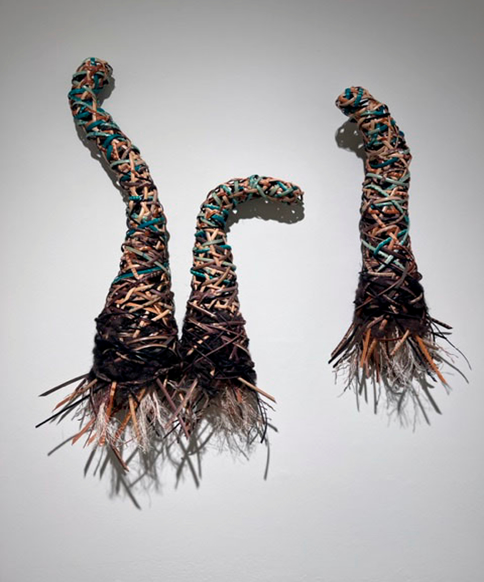 Baskets are diverse just by nature of their techniques and materials, whether traditional or contemporary, functional or non-functional. Nature materials used in weaving the pieces in the show range from kelp to eucalyptus bark, palm inflorescence to pine needles, gourds and more, supplemented by man-made materials such as beads, tea bags, waxed cord, and even scrap electrical wire and a discarded Westinghouse fan cover.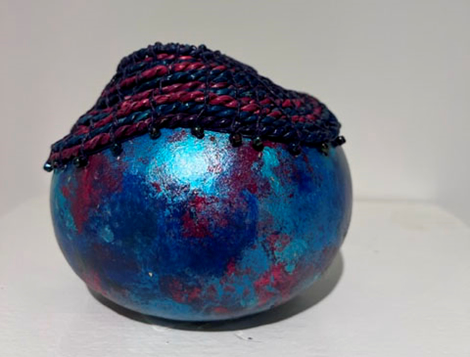 Though contemporary fiber vessels may not be functional, as sculpture they convey diverse emotions, ideas, and states of mind. Techniques such as Japanese flower knot plaiting can inspire the final shape. A collection of work, by Barbara Shapiro, "Urns for Covid" symbolizes a "congregation of loss, so many people, each an individual loss." Michelle Sonnenfeld's piece "Trying to Hold Time" represents the futility of trying to hold on to time. The artist shares, "as hard as we might try to grasp and hold onto time, it evaporates into thin air."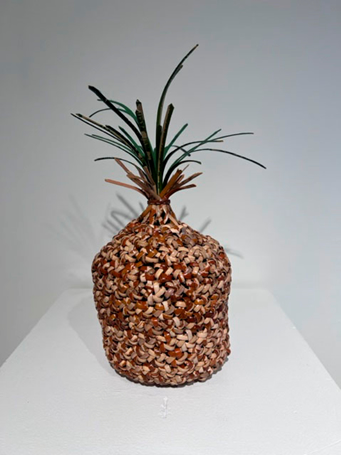 The Bay Area Basket Makers (BABM) guild was founded 38 years ago to support interest in basketry as a craft and art form. The guild serves as a community resource with workshops, classes, monthly meet ups and mentorship. The exhibition was coordinated by Bob Darchi. The works of a dozen basket makers are included in the show.
Members of Bay Area Basket Makers will provide live demonstrations on Saturday, March 11, beginning at 2:00 pm in the East Gallery.
Special Event Sat, Mar 11
2:00 pm
Basket Making Demonstrations

Sanchez Art Center is located at 1220 Linda Mar Blvd in Pacifica, about a mile east of Highway 1. Following opening night, the galleries are open Friday, Saturday, and Sunday, 1–5 pm, and by appointment, through Mar 26.
The opening, talks, and gallery visits are free as part of the center's focus on "Creating Community through Art".
Upcoming Exhibitions: Click here to see the 2023 schedule